Providing Heating and Cooling Services in Plano, TX, Since 1980
We've been providing expert AC and heating repair and installation in Plano, TX and greater Dallas Fort Worth since 1980. If you AC repair, replacement or any other HVAC service, please call us at (817) 646-8200 to request any of our HVAC services and speak to a real person right away.
AC and Heating Repair Near Plano TX
About Us
Reviews
Contact Us
About Us
For those in search of trustworthy HVAC services in Plano, TX, Superior AC & Heat is an unparalleled choice. As a firmly rooted HVAC service provider, we pride ourselves on our unwavering commitment to customer satisfaction. Our technicians are not only professionally trained but also licensed and insured, guaranteeing that our service quality is nothing short of excellent.
We provide an extensive array of services to both residential and commercial entities in Plano, ranging from AC repair, installation, and replacement to heater repair, installation, and replacement. Furthermore, our consistent HVAC maintenance programs guarantee the optimal performance of your equipment, assuring you uninterrupted comfort at all times.
Top AC Repair & Replacement Services in Plano TX
Superior AC & Heat has more than four decades of experience providing the best quality AC services throughout the city of Plano. Whether you need fast
air conditioner repairs
or
AC replacement
on your home or business or you simply need your AC looked at for maintenance, you can count on our team at Superior AC & Heat for decades trusted expertise to get the job done right the first time and fast, so that you're not suffering through hot, humid summers. We also offer installation of AC units for new constructions. If you have noticed an issue with your AC unit, you need to call Superior AC & Heat in Plano, TX as soon as possible. Many customers this time of year experience issues that include a
sudden jump in utility expenses
, ice forming on the coils of the air conditioner, poor quality of cooling, or strange noises coming from the unit. Whatever the situation with your HVAC system may be, our trained technicians will investigate and find the source of the issue so it can be repaired quickly and properly.
Older air conditioners
have their own set of issues. If your AC system cannot be repaired for a reasonable price, it may be time to replace your HVAC system. In many cases, a replacement air conditioner will not only work more efficiently, but it may even improve indoor air quality and lower your utility bills. Our team will be happy to help you choose the right unit and install it properly. If you have a new building in Plano that needs a new AC unit installed, Superior AC & Heat can help you choose the best HVAC system for your property that works best for your needs. We offer some of the best brands on the market that have been trusted for decades, so you can be sure you are receiving a quality new HVAC system or AC unit.
Contact Us If Your Heater Breaks Down in Winter
Winter comes faster than you would expect in Texas. Cold winter weather can hurt to the bone and can affect the young and the elderly quickly. If you heating unit has broken down, then you need to get it working fast. Fortunately, Superior AC & Heat can offers
24/7 emergency HVAC services
and can solve the issues quickly. We also offer heating unit replacements and new installations in Plano. If your heating system starts giving you trouble, making odd sounds, or just simply isn't heating up the home properly, then you need to give our HVAC technicians in Plano a call as soon as possible. We will send a trained, licensed technician to your home to diagnose and repair the issue promptly. If a repair is not possible or not the best options, we will discuss the possibility of replacement so you can make an informed decision. If you heating unit needs to be replaced, we can help with that too. Our technician can provide you a walkthrough of the process of replacing your heating unit and the time frame available based on the types of heating systems available and the best for your home. That way you know if you can receive repairs the same day, or if parts will need to be ordered and their expected delivery dates. We will get to work replacing the heating system and install it as quickly as possible so you can warm up comfortably at home, once again. Whether you possess a new residential property or a commercial establishment in need of a heating system, we're thrilled to extend our new installation services. Our expertise extends to installing both furnaces and heat pumps. Furthermore, we're at your disposal to aid in choosing the most suitable unit for your building, considering aspects like the size of your premises, budget, and priorities.
Regular HVAC Maintenance in Plano, TX
We strongly advocate for routine HVAC maintenance for all our clients in Plano. By performing regular inspections of your equipment, our adept technicians can detect and rectify potential issues before they escalate into major problems. Additionally, habitual maintenance and duct cleaning can prolong the lifespan of your HVAC system, forestalling the need for premature replacement. Superior AC & Heat extends these HVAC maintenance services to both commercial and residential patrons in Plano and its neighboring cities.
Need 24/7 Emergency HVAC Repairs? Call Us!
Nothing can be as exasperating as an unexpected malfunction of your air conditioning system or furnace. But don't fret, our HVAC technicians are at your service to swiftly rectify these issues with our emergency repair service in Plano. Regardless of the hour, feel free to reach out to us and we'll promptly dispatch a technician to examine your unit and diagnose the issue. At Superior AC & Heat, we dedicate ourselves to providing exceptional customer service and quality repairs that are made to last. We employ only the most competent HVAC technicians we can find in DFW, all of whom are licensed, trained, and insured, and are meticulously vetted to ensure their capability to meet our lofty quality standards. Additionally, our technicians are committed to continuous learning, attending seminars and industry events to keep abreast of the latest trends and advancements in the HVAC field.
Reviews
Contact Us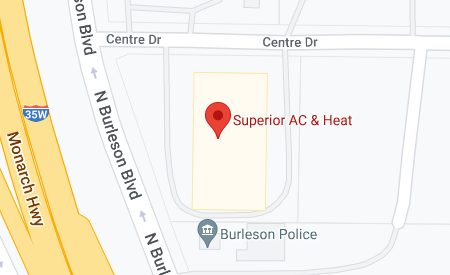 Fort Worth / Burleson
200 Centre Dr Ste 9, Burleson, TX 76028
(817) 646-8200
AC Repair – Maintenance – Installation
Aledo
Alvarado
Arlington
Azle
Bedford
Benbrook
Burleson
Carrollton
Cleburne
Colleyville
Coppell
Crowley
Dallas
Dalworthington Gardens
Edgecliff Village
Euless
Everman
Farmers Branch
Fort Worth
Frisco
Grand Prairie
Grapevine
Haltom City
Haslet
Hurst
Joshua
Keller
Kennedale
Mansfield
Midlothian
North Richland Hills
Pantego
Plano
River Oaks
Roanoke
Saginaw
Southlake
Trophy Club
Watauga